MAC USER Info Scroll Down
After clicking the photo of the purchased set on the Redeem page an .exe file will start to download. You may get a warning from your computer before downloading the .exe file. This is normal as you have never downloaded this .exe file from this site before. Ignore the warning and click RUN. After a minute or so window shown below will open.
A. The 16 digit serial number is located inside the sealed card you received from the event. Use all CAPITAL letters. Dashes are required.
B. The system will automatically add your "Registration Number". Do not change it. The Activation Number will occur automatically by the process.
C. Complete the form (all fields with an asterisk are required). Select the "Register Now" button.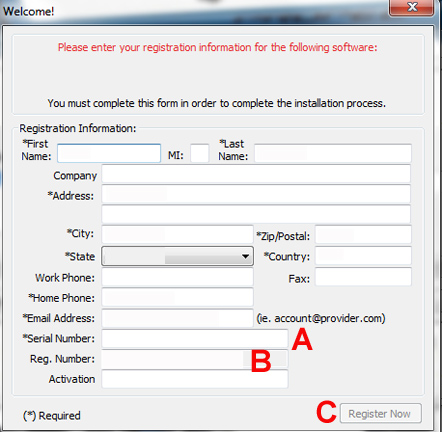 Scroll down and "click" that you accept the terms.
The registration box will automatically close.
After you register and go through the installation steps, your design collection will be placed into a specific folder located on your computer's hard drive as follows:
C:\Embroidery Garden\"name of your purchased collection".
MAC Users
If you use a MAC you will need to download this translator to be able to download the .exe file.